Provisioning
Cloud Credentials¶
The controller needs to be configured with vSphere Credentials and Gateway setup in order to programmatically create and configure required VMWare infrastructure on Vcenter in your account. These credentials securely managed as part of a cloud credential in the Controller.
The creation of a cloud credential is a "One Time" task. It can then be used to create clusters in the future when required. Refer vSphere Credentials for additional instructions on how to configure this.
Important
To guarantee complete isolation across Projects (e.g. BUs, teams, environments etc.,), cloud credentials are associated with a specific project. These can be shared with other projects if necessary.
---
Self Service Wizard¶
The wizard prompts the user to provide critical cluster configuration details organized into logical sections:
General
vCenter Settings
Network Settings
Control Plane
Worker Nodes
---
Create Cluster¶
Click Clusters on the left panel and the Clusters page appears
Click New Cluster
Select Create a New Cluster and click Continue
Select the Environment Private Cloud
Select the Infra Provider VMWARE
Provide a cluster name and click Continue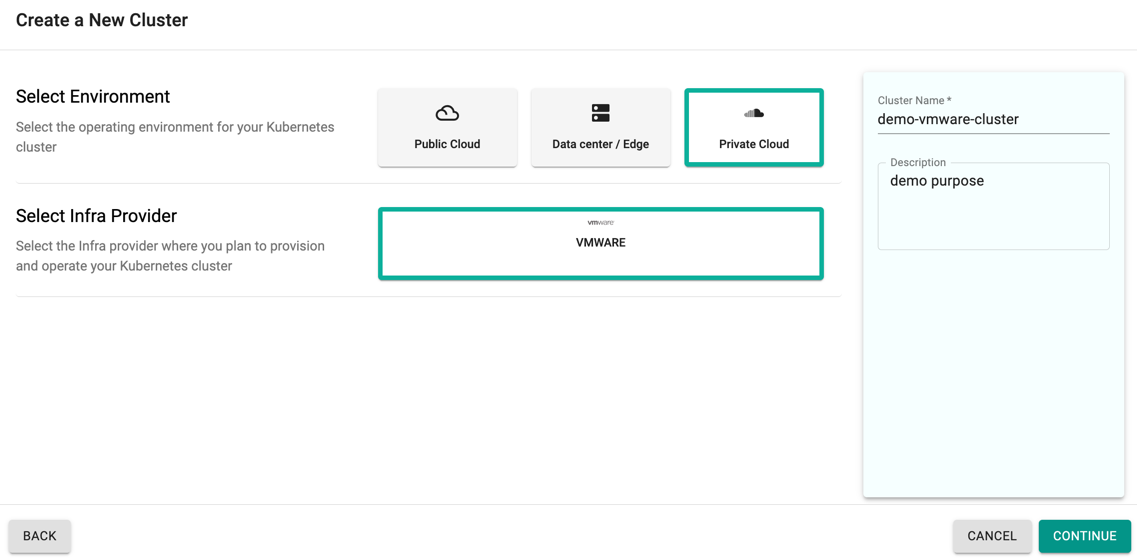 ---
General (Mandatory)¶
General section is mandatory to create a cluster
Select the Cloud Credential from the drop-down created with vSphere credentials
Select a Blueprint and version. Customized blueprint can also be selected from the drop-down if required
---
vCenter Settings (Mandatory)¶
This section allows to customize the vCenter Settings
Enter the Data Center name, used for connecting with the gateway via vCenter
Enter the Data Store and Resource pool selected in the vCenter
Ensure to have the VM Templates in the vCenter. Enter the required VM Template depending on the Kubernetes version used
Refer Gateway to know more about the above fields
Optionally, provide the folder name created in the vCenter where the VM must be deployed
Enter the IP address used for Control Plane Endpoint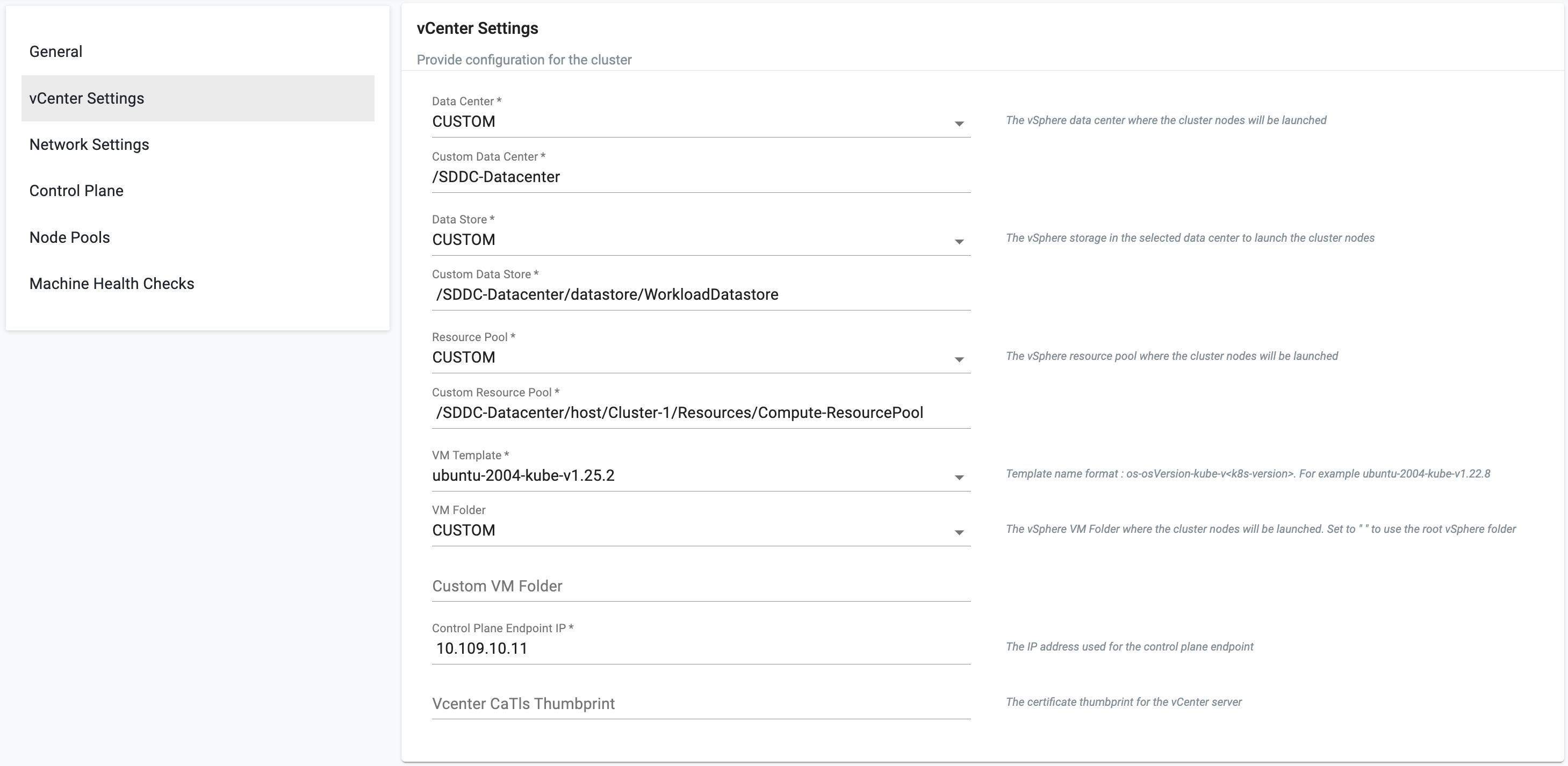 Network Settings¶
Select the Network Settings CNI Name as calico and the version
Enter the Network Name selected in the vCenter. Refer Gateway for more details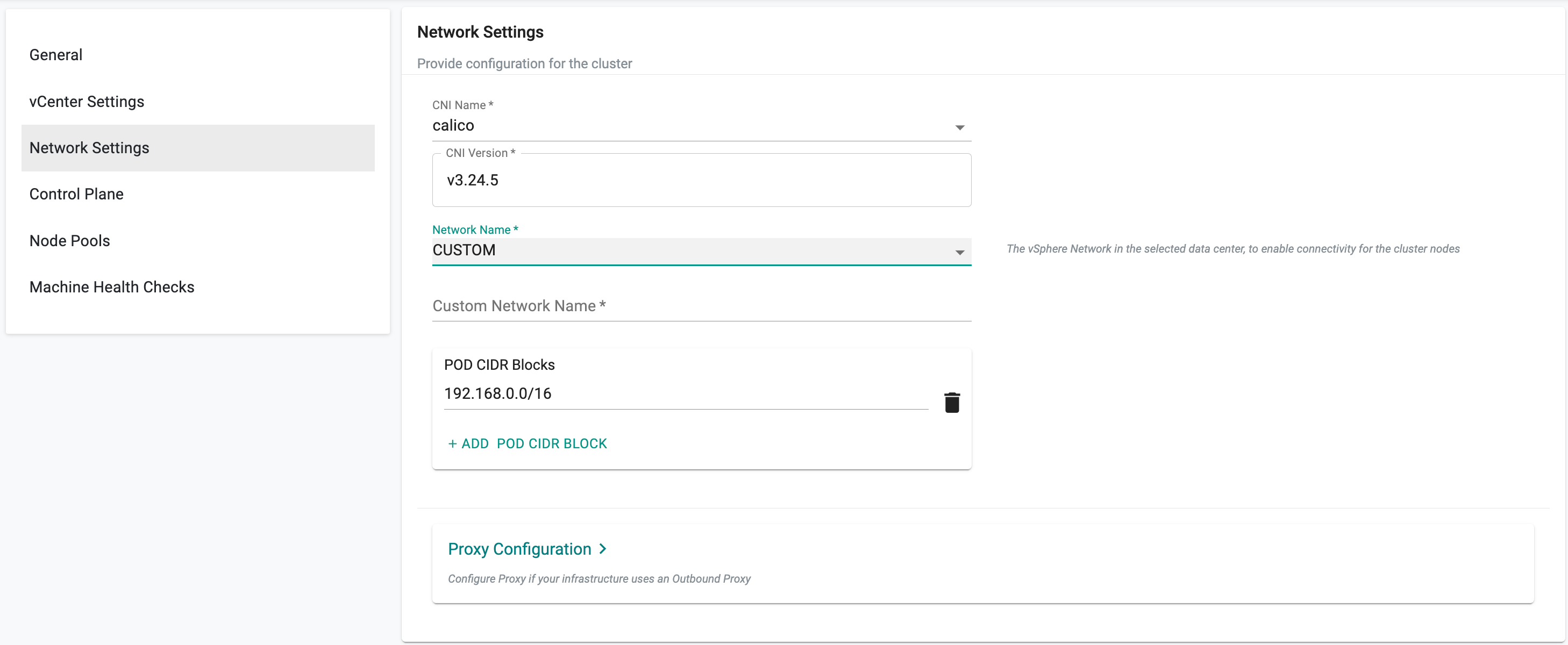 Control Plane Settings¶
Enter the number of machines to deploy as part of Control Plane
Select the required K8s version
Optionally, provide the Ssh Authorized Keys
Worker Nodes Settings¶
Enter the number of machines to deploy as part of worker nodes
Select the required K8s version
Optionally, provide the Ssh Authorized Keys
Once all the required config details are provided, perform the below steps
Click Save Changes and proceed to cluster provisioning
The cluster is ready for provision. Click Provision

---
Provision In-progress¶
Once the user clicks on Provision, the system begins to go through a list of conditions for a successful provisioning as shown below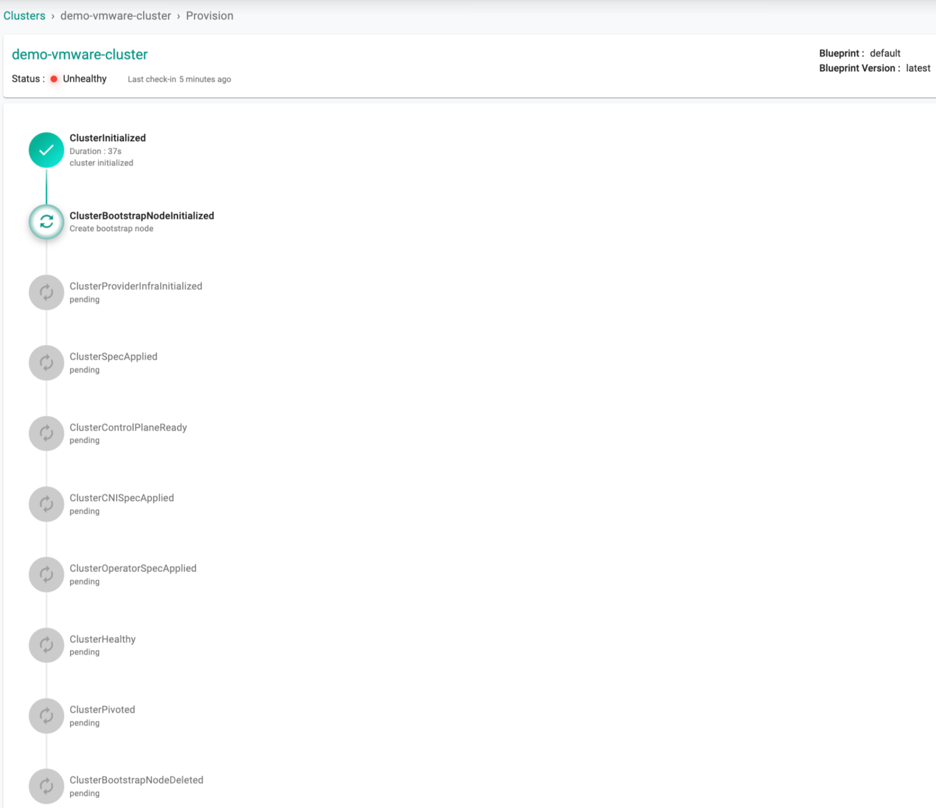 ---
Successful Provisioning¶
Once all the steps are complete, the cluster is successfully provisioned as per the specified configuration. Users can now view and manage the VMWare Cluster in the specified Project in the Controller. On successfully provisioning, the user can view the dashboards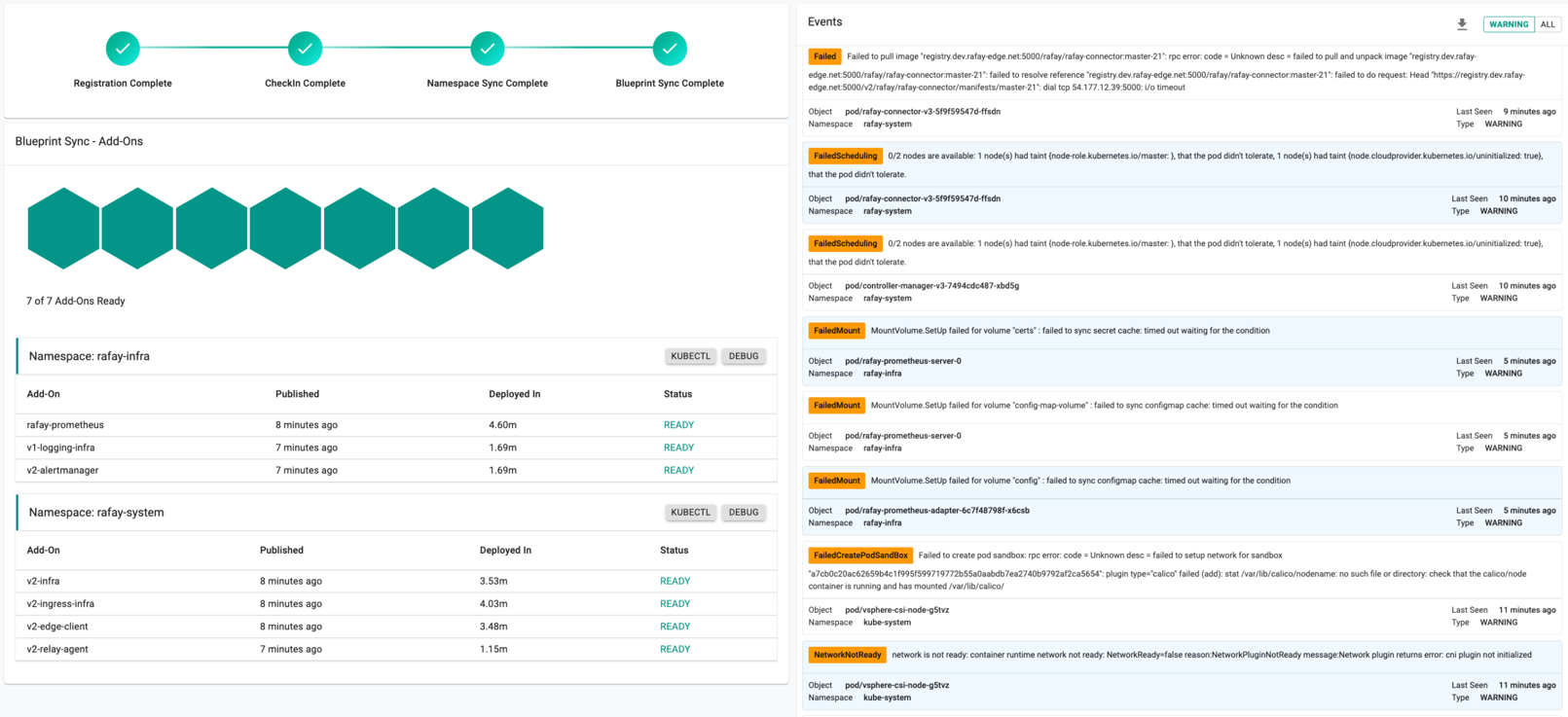 ---
Download Config¶
Administrators can download the VMWare Cluster's configuration either from the console or using the RCTL CLI
---
Failed Provisioning¶
Cluster provisioning can fail if the user had misconfigured the cluster configuration (e.g. wrong cloud credentials) or encountered soft limits in their Azure account for resources. When this occurs, the user is presented with an intuitive error message. Users are allowed to edit the configuration and retry provisioning
Refer Troubleshooting to know more about the failed scenarios
---